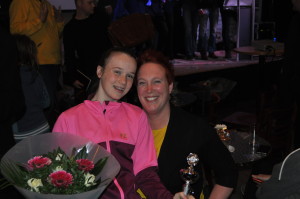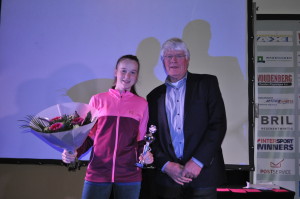 Every year, the city of Wageningen, where I live in, organises a sportscafe, where achievement awards for sports talents in 2 individual age categories and teams were given and the sportsman, sportswoman and sportsteam of the year are announced.
This year I was nominated for sports talent 2016 in the catogorie 13 to 16 years of age. Yesterday evening, december 12th, together with family,  friends and fellow badminton players from the Kantjils, I went to the award ceremony at the Patio, hoping to go home with the trophy.
Together with Anna Martinez (the other nominee, who performed well with chess this year) I went on to the stage, while they showed some pictures of our achievements. Then I had to answer some questions about my previous season playing badminton. The president of the Wageningen Sports council, Hans Kuiper, was going to announce the winner and when the enveloppe was opened he called my name. So, I had won the trophy.
Afterwards I was interviewed for the local newspaper Stad Waginingen. The following morning I was in the Gelderlander and the Stad Waginingen. It was amazing to be awarded sports talent 2016 at the same time as Annemiek van Vleuten en Jan Groenendijk, who became sportswoman and sports man 2016 . A great experience to be added to my list and without my sponser this would not have been possible. Thank you FZ Forza and Adelaer Real Estate for your faith in me and thank you Ilse Van De Burgwal for your support and coaching.